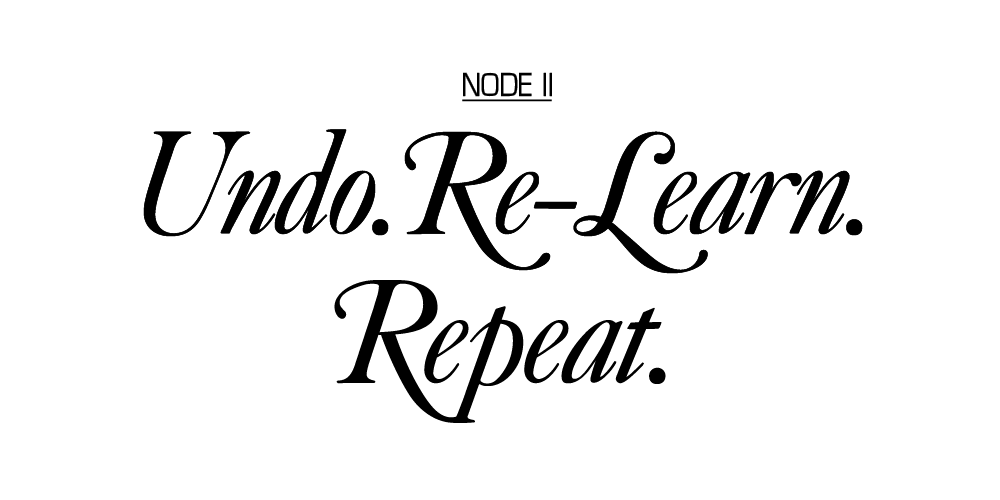 Wednesday, 27 January
Node II: Undo. Re-Learn. Repeat.
Organised by Jacqueline Hoàng Nguyễn and Ricardo Atienza with guests Bitte Andersson, Brown Island (Johnny Chang and Louise Khadjeh-Nassiri) Loulou Cherinet, Fine Art students from Konstfack, Karl Lydén, Michele Masucci, The Name Change Initiative (Jessy Koeiman and Vivian Ziherl), Temi Odumosu, Tina Sherwell and alumni from Birzeit University, and Hồng-Ân Trương.
Please note: Undo. Re-Learn. Repeat., is one day only and includes Zoom webinars that are open to the public except for the staff workshop, "How to Respond to BLMs Call to Action?"
Introduction
How can an art university reckon with the insufficiency of its diversity performance and implement structural change? As a site for learning, claiming to know is not enough anymore, but to undo and re-learn is a hard process. In light of the teachings by Black Lives Matter, this node focuses on strategies for addressing and dismantling structural racism within art institutions. An everyday, unchecked micro-violence persists and pokes the egalitarian and tolerant veil of liberal societies. As Sarah Ahmed once described the figure of the feminist killjoy, "You are heard as complaining. And maybe you are making a complaint. Or maybe you are making a critique which is heard as a complaint. But to be heard as complaining is also to be heard as speaking in a certain way: as expressing yourself. Heard thus: you complain because you are being complaining." Yet, complaints have already been filed and heard, so this node aims to offer tools for a call to action for collective unlearning and relearning. In collaboration with artists, researchers and staff, we will explore issues of listening, self-criticality, self-organizing and structural change. Lip service proclamations do not offer solace to anyone anymore, we demand change!
9:00 – 10:00 a.m
Introduction
By Ricardo Atienza and Jacqueline Hoàng Nguyễn
Silence is Violence
Performative lecture by Fine Art students
Location:
Zoom (Open to the public.)
A collective reading by Fine Art students of the anonymous open letter jointly published in Paletten and Kunstkritikk on July 1, 2020. The letter was written by a group of artists and cultural workers in solidarity with Black Lives Matter.
10:30 – 11:45 a.m.
Times Change, Names Change
Conversation with Brown Island and Kunstinstituut Melly's The Name Change Initiative
Location:
Zoom (Open to the public.)
Formerly known as Witte de With Center for Contemporary Art, the institution adopted a new name; the Kunstinstituut Melly. Through an extensive renaming process, involving over 280 participants, the chosen name abandons its colonial legacy and captures the community-led transformation. The new name is based upon its capacity to maintain accountability, vulnerability, responsiveness and to ensure that institutions continue to become a more welcoming and daring cultural space into the future. Times Change, Names Change is a conversation between The Name Change Initiative and Brown Island and they will engage in the politics of naming, the efforts for enabling change and discuss institutional accountability of perpetuated colonial violence nested in a name.
The Name Change Initiative is collectively led by a working group of staff members which is intergenerational, diverse and brings multiple skills, different knowledge and various perspectives of the institution's structure and art field. The working group rotates with incoming and outgoing members, as well as external guests. The Name Change Initiative includes Jessy Koeiman, Curator of Collective Learning since 2018 and Vivian Ziherl Research and Program Manager at the Kunstinstituut Melly.
Brown Island is a POC artist collective started by students at Konstfack in 2016 and continues to be organised as a community inside and outside the institution. In 2018, two of its members Johnny Chang and Louise Khadjeh-Nassiri wrote the essay Floating in the White Sea which was published as an exhibition by Brown Island, calling attention to the name of Konstfack's main exhibition hall, Vita havet, as well as what sits beyond the name.
1:00 – 2:30 p.m.
Palestinian Identity and Art Practice
Presentation by Tina Sherwell and alumni from Birzeit University
Location:
Zoom (Open to the public.)
The talk will explore how identities have been explored by Palestinian artists from the 1970s to the present-day changing representation of identity across the decades in relationship to national movements, resistance and its complex relationship with global art world and markets.
Tina Sherwell is currently Head of The Contemporary Visual Art Program at the Faculty of Art, Music and Design at Birzeit University, prior to which she was Director of the International Academy of Art, Palestine. She has written numerous texts on Palestinian art and visual culture and has curated various exhibitions including Intimate Terrains, Representations of a Disappearing Landscape at The Palestinian Museum (2019).
1:00 – 2:30 p.m.
Can Konstfack Become an Anti-racist Institution?
Staff workshop (Requires pre-registration.)
With Bitte Andersson and Michele Masucci
Location: Zoom (Link will be sent to attendees.)
The Black Lives Matter movement has brought attention to systemic racism not only in the USA but worldwide. In July last year, Sweden's institutions, art spaces, galleries, cultural venues and museums were challenged to respond to a call to action through a letter titled, Silence is Violence by the association Artists and cultural workers in Sweden in solidarity with Black Lives Matter. The letter posed a number of critical questions. Questions that in many respects remain unanswered and a call to action that, for the most part, and for most institutions, seem to have remained within the logic of symbolic gestures. How do we go from gesture of solidarity to structural and long-term change?
At Konstfack, efforts to answer to this call are being discussed. During the fall 2020, Bitte Andersson and Michele Masucci conducted a survey collecting ideas and experiences from staff members on what they found important and necessary to do in response to systemic racism. The process to understand what to do with the results of this survey have just started so none of the results can be shared publicly at the moment. However, the chosen methods and fundamental questions that initiated the work can be discussed. We would like to share these questions and reach out to the staff at other departments to see what we can learn from each other and coordinate our response to the call to action posed by the Artists and cultural workers in Sweden in solidarity with Black Lives Matter and BLM.
Bitte Andersson currently works as an administrator at the institution for Fine Art at Konstfack. She has previously taught illustration at the Master's programme in Visual Communication and the Bachelor's programme in Graphic Design and Illustration. Outside of Konstfack, Bitte is a comic artist, illustrator and filmmaker who primarily works collectively. After concluding her BA in Fine Art, she started a queer/feminist bookshop/social space called Hallongrottan in Hornstull in 2006. The community that grew from that space has been the basis for all of her following projects: the amateur TV show, Hallon TV, on Öppna kanalen; the feature film, Dyke Hard, that premiered at Berlinale in 2014; and the graphic novel, I slutet av regnbågen, 2017. Aside from working at Konstfack, Bitte is an editor at the graphic novel publishing house, Syster förlag, and a producer for the short film, Tjena Tjavo, by director Alecio Araci, 2021.
Michele Masucci is an artist, curator, educator, writer and researcher. Working in and through different forms of collaborations, his work combines the autonomous Marxist tradition with feminist and queer theory elaborating on care as a form of ethico-aesthetic practice. Michele is currently Guest Lecturer in Art Theory at Konstfack University of Arts, Crafts and Design, PhD fellow in Theory at the Academy of Fine Arts Vienna, and Scientific Coordinator at Karolinska Institutet Stockholm. He recently co-edited Red Love: A Reader on Alexandra Kollontai and is currently participating in the 2020/21 edition of the Luleåbiennial. Michele has curated the exhibition, A Careful Strike* at Mint konsthall, opening fall of 2021.
2:45 – 4:00 p.m.
Tearing Down Silent Sam: The Undercommons as Model for Organising at the University
Conversation between Hồng-Ân Trương and Karl Lydén
Location:
Zoom (Open to the public.)
In August 2018, amidst the nationwide Black Lives Matter protests, the confederate monument at the University of North Carolina in Chapel Hill was torn down. As associate professor at the university, educator and artist Hồng-Ân Trương partook in organising protests which toppled the bronze statue commonly known as Silent Sam. In this conversation with writer and critic Karl Lydén, Trương will discuss her work and experience in light of what Stefano Harney and Fred Moten suggest in their book, The Undercommons, that we might need to assume an "unprofessional" position not only in the margins of the university, but even against it. Departing from Trương's recent visual projects that explore the construction of citizenship and notions of belonging, the conversation seeks to ask: how do we transform our roles as educators within institutions whose official monuments and narratives re-entrench ideologies of xenophobia, patriarchy and misogyny?
Hồng-Ân Trương uses photography, video and sound to explore immigrant, refugee and decolonial narratives and subjectivities. She was awarded a Guggenheim Fellowship in 2019 and was the Capp St. Artist in Residence at the Wattis Institute for Contemporary Arts in 2020. She has exhibited at MoMA (NY), the Irish Museum of Modern Art (Dublin), and Nhà Sàn (Hà Nội), among other places. Hồng-Ân lives in Durham, North Carolina and she is an Associate Professor of Art at the University of North Carolina at Chapel Hill.
Karl Lydén is a writer and critic and PhD candidate in philosophy at Södertörn University. His writing has appeared in Kunstkritikk, Mousse Magazine, OEI, Dagens Nyheter and The Psychopathologies of Cognitive Capitalism (Archive Books, 2014), Dictionary of Transformation (JRP Ringier, 2009). Lydén is the editor of Found Review (a journal for art criticism using only found material). Whitney ISP Fellow in New York (2008-2009) and researcher at the Jan van Eyck Academie in Maastricht (2010-2012).
4:15 – 5:30 p.m.
Black Liveliness: Being, Knowing and Doing Through Catastrophe
Conversation with Temi Odumosu and Loulou Cherinet
Location:
Zoom (Open to the public.)
This conversation between artist Loulou Cherinet and art historian Temi Odumosu is a response to the challenging and rapidly changing times. Together we speak and speculate towards the future by engaging theory and practices from global traditions of Black radical thought. We explore questions such as: Where is the site of knowledge production? What is the meaning and role of the archive? How do we create an image in a context of image-exhaust(ion)? Which way now?
Temi Odumosu is Senior Lecturer in Cultural Studies at Malmö University. She is author of the book, Africans in English Caricature 1769-1819: Black Jokes White Humour (2017). Her research and curatorial practices are concerned with race and visual coding in popular culture, colonial archives/archiving, slavery and visuality, post memorial art and performance, and ethics of care-in-representation. Overall, she is focused on the ways art can mediate social transformation and healing. She is currently a member of the research network The Art of Nordic Colonialism: Writing Transcultural Art Histories.
Loulou Cherinet is professor in Fine Art at Konstfack where she recently initiated the 2021 summer course called Wax and Gold - Knowledge as we don't know it, on Ethiopian poetics of double entendre and indeterminacy. Her artistic practice within film and spatial montage is concerned with how social and political power, the sensuous and cognitive, align and make attempts to open up the relationship between narrative and reality to give room for breathing and action.